Before informing you about the dishes to try in Kolkata you should know about Kolkata, the city of joy, that it is a hub of some amazing traditional cuisines which will make you return to this city again and again. If you are thinking about visiting Kolkata but do not know what to try must, then we are here to inform you about the dishes to try in Kolkata.
Details about the dishes to try in Kolkata
Macher Jhol (Fish Curry)
Macher Jhol or fish curry is one of the most famous Bengali dishes that you must try whenever you are in Kolkata. It comes at the top of the list of dishes to try in Kolkata. Bengali and fish, are two are inseparable and Kolkata very carefully cherishes the essence of Bengali food. Fish curry is nothing but a preparation of fish with potatoes, and onion in curry form. If you go to any restaurant with a Bengali menu, this dish is a must. Try fish curry with rice which is another staple food of Kolkata, you will love it.
Kosha Mangsho (Mutton Curry)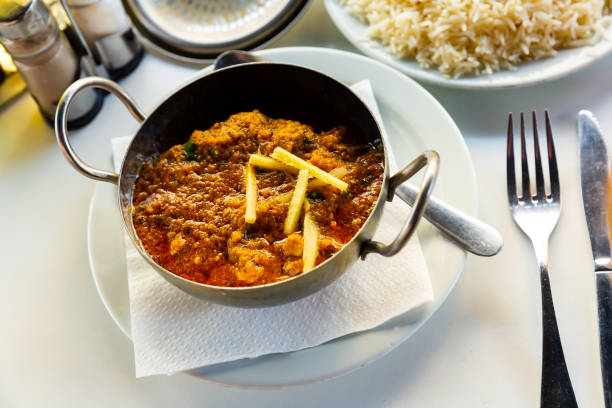 Another famous dish kosha mangsho or mutton curry is a kind of identity of Bengali food. It is a preparation of mutton cooked with lots of vegetables and spices. The juicy mutton with thick curry will melt your heart. If you are a meat lover, it will taste like heaven for you.
Sukto (Curry of Vegetables)
If you are a vegetarian, then Kolkata has something to offer you as well. Sukto is one of the best vegetable recipes that you will remember for a long time. This is a very unique preparation of varieties of vegetables like potatoes, raw bananas, bitter gourd, and so on. It tastes sweet and tastes better with rice.
Mochar Ghonto (Banana Flower)
During your visit to Kolkata, you will just hear the name of the Bengali dish Mochar Ghonto or the preparation of banana flower. It is one of the most famous household dishes that you can try both as a vegetarian and non-vegetarian. Sometimes prawns are added to this dish to enhance the taste of this dish but if you are a vegetarian then you can try simply without prawns. Though this dish is a tough one to prepare anyone can endure that for the pleasure of the taste buds.
Roshogolla
It is the name of that sweet dish which is the identity of Kolkata. Kolkata is famous for Howrah Bridge and for this sweet dish Rosogolla. Rosogolla draws the attention of the whole country and even of the world for its unique taste which you can get only here. Now Bengal officially has the fame of the inventor of Rosogolla. It tastes best after the main course, without this your eating is incomplete.
Kolkata Biryani
Hyderabad is famous for biriyani but over the course of time, Kolkata achieves a unique place for preparing biriyani in an exquisite way. Kolkata biriyani has that mind-blowing aroma which is the USP of this dish. If you are in Kolkata then this is the dish that you cannot forget to taste. Mostly served with both chicken and mutton. It is up to you to choose according to your taste.
Lucchi & Aloor Dum
If you are from North India then you must know about aloo Puri. But in Kolkata, there is a dish called Lucchi and aloor dum, which is entirely different from aloo puri. It is an ideal dish to have in Kolkata as your breakfast. It is a unique dish that only Kolkata can provide.
Aloo Posto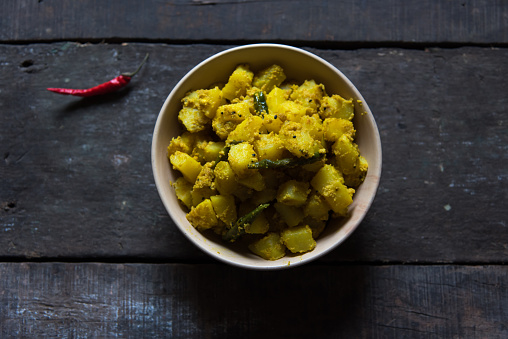 This is a famous Bengali dish that dates back to traditional times. It is a vegetarian dish made of poppy seeds and potatoes. It is a kind of dish that you will find in every Bengali household in their daily food item. Though it is an everyday household dish, it still has a special place in the list of dishes to try in Kolkata if you are a first-time visitor to this city.
Telebhaja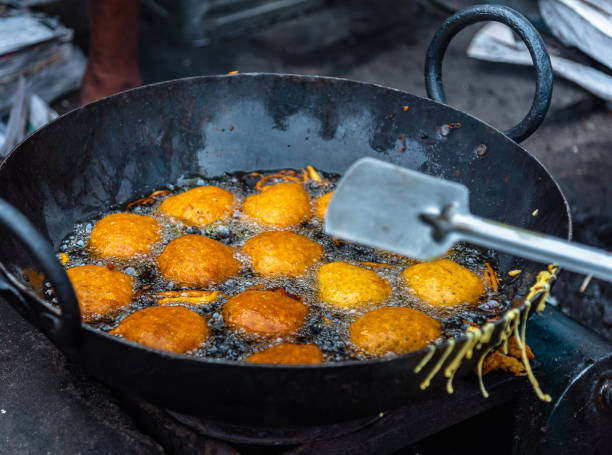 Telebhaja comes on the list of dishes that you can try in Kolkata streets. It is one of the famous Bengali snacks that proudly portray the essence of Bengali cuisine. It is a kind of fried snack prepared with cornflour. If it is the rainy season then the demand for this dish rises up exponentially in Kolkata as monsoon and telebhaja are inseparable things accompanied by a cup of tea.
Mishti Doi (Fermented Yogurt)
Misti Doi is a famous name that falls on the list of sweet Bengali delicacies. It is a sweet preparation of fermented yogurt which is serving Bengali delicacies for ages. Misti Doi has its own place in the minds of the Kolkata people along with Rosogolla.
While discussing the dishes to try in Kolkata in conclusion we can add that in this short space we are not able to give all info about the vast range of eateries that defines the true essence of Bengali food. But during your Kolkata visit these mentioned delicacies will surely satisfy the foodie in you.
(Travel Xamp is now on Telegram. Join our Telegram by clicking here to get all the travel hacks, destinations, blogs, and travel news for free!)